Five Misconceptions About Clay Brick Pavers
If you are planning a paving project around your home, and want to add a touch of classic elegance, you may be considering genuine clay brick pavers. But, if you are like many people, you may have some misconceptions about using clay brick as a paving material. According to the Brick Industry Association (BIA), there are five common misunderstandings about clay brick pavers.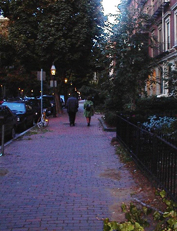 Misconception #1. Clay Pavers Aren't as Strong/Durable as Other Paving Products
The easiest way to correct this misperception is to take a walk through Boston or Philadelphia, where you can literally walk on the same streets once trod by such famous Americans as Paul Revere and Benjamin Franklin.
And we mean that exact same streets, because in some of our older cities, pavers that were laid down over two centuries ago are still in active service. Why? Because there are few paving materials that can match genuine clay brick pavers for strength and durability.
And the reason for that is that when clay pavers are manufactured to today's stringent standards, they are capable of achieving compressive strengths of over 10,000 lbs (that's five tons) per square inch, and of weathering the harshest North American freeze-thaw environments.
Misconception #2. Clay Pavers Must Be Laid With Mortar
The bricks that most people are familiar with - the face brick in houses - are laid with mortar. For many DIYs, installing brick with mortar seems a little bid daunting. But in fact, brick paving projects make the perfect project for a DIY'er because the easiest and simplest way to lay brick paving is in a "flexible" set, laying the brick on a crushed stone base, with sand creating the interlock between the bricks.
While this flexible base paving system dates back to Roman times, it experienced a resurgence in this country beginning in the 1970s. This system is actually less expensive than a mortared paving system and more durable, because, unlike solid poured paving, its flexibility means that it will never crack.
Tom Perry, vice president of marketing for the BIA says, "Not only is brick is the most naturally harmonious material for outdoor and landscaping uses, but it's also surprisingly easy to install." You can check it out Clay Brick Paver Paving Design & Installation Manual from here.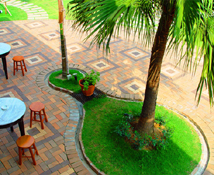 Misconception #3. Designs & Colors are Limited with Clay Pavers
Let's talk about the color first. Because each clay brick is as unique as a snowflake, deriving its natural color from the earth from which it is made, the palette of brick colors is virtually infinite.
When we think of brick, most of us think "red," but brick pavers span the spectrum from creams and buffs to dark charcoals, with most colors in between. When it comes to design, your only limit is your imagination and creativity. While most brick pavers are rectangular in shape, you can create intricate herringbone and basketweave patterns that go beyond the simple rectangle. You can further accentuate a design by "banding," using brick of contrasting color, along the edges of a design.
But rectangles aren't the only shapes available today. You can also get square or octagonal designs that further add to the complexity of the look and design. If you want clean, crisp lines, you can choose an extruded paver. If you want to mirror the aged patina of antique brick work, you'll want to choose from our latest antique pavers.
Misconception #4. All Paving Brick Fades Over Time
All you have to do to prove this misconception wrong is to take a look at those pavers in Philadelphia, Boston, and in Washington D.C.
The lines may have softened with age, but the color is as fresh as the day the pavers were set down. And the reason is that the color in a clay brick paver is the color of the earth from which it is made of, so that color is "through and through." With other kinds of paving material, the color that you see is actually created with a dye. Over time, the material carrying that dye gradually erodes, making these pavers appear to "fade."
Misconception #5. Clay Pavers Are Too Expensive
The keyword here is "too." Clay pavers are a little more expensive than other paving materials. But then they ought to be, because a genuine clay brick paver is a premium product that lends a premium aura to your home.
To expect clay pavers to cost no more than common paving materials like asphalt and poured concrete would be unrealistic, but long after the asphalt and concrete need to be replaced, and the brick will still look as great as the day they were laid.

Clay brick pavers are premium, value-added product, giving years and years of trouble-free service, and dramatically enhancing the curb appeal and value of your home.
When installed by a mason, the installation charges are the same for both concrete and genuine clay pavers. And, by choosing a "flexible" installation, you can lay them by yourself, eliminating the installation costs altogether.
Now that we've dealt with the misconceptions. It's pretty obvious that brick pavers are in a class of their own. Brick presents a quiet but stately elegance that is warm and welcoming. The beauty of brick will never go out of style. Adding a brick walkway or driveway can also add great value to your home. In every way, when you choose brick, your return is far greater than your investment.