About Claybricks
Production
Apparent Advantage on Geographical Location
Brief Introduction for Pasir Gudang Port and Port of Tanjung Pelepas in Johor
Quality Control
Customer Service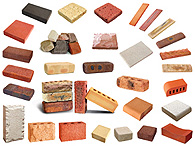 About Claybricks
Claybricks & Tiles Sdn. Bhd. (Claybricks) is a Malaysian company incorporated in 1990. It is presently the leading manufacturer and largest exporter of quality burnt clay products in Malaysia with annual production capacity of 300,000 metric tons.
As denoted by the name, Claybricks involves in the manufacturing of a wide range of quality burnt clay products, namely:-
Clay facing brick / block
Engineering brick
Clay paver
Brick veneer
Garden & Landscape products
Special shaped bricks and brick accessories
Besides catering for the local and regional markets including that of East Malaysia, Singapore and Brunei; we also made inroads into the international markets including Japan, Hong Kong, China, Taiwan, Australia, New Zealand, countries in Middle East and Europe.
At Claybricks, we are fully aware of the trend of the global market. Research and development is always a priority in order to keep abreast with the market demand.
Production
Our state-of-the-art factory is located in Kota Tinggi, Johor. Kota Tinggi is a historical town well-known for its abundant reseve of quality clays for ceramic and heavy clay industries.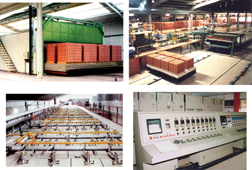 Our factory occupies an area of 10 hectares and own 80 hectares of clay quarry to ensure consistency in quality of the raw material supply.
The production system consists of advance clay preparation and brick making machineries and equipments imported from the USA and Germany and employs state-of-the-art production technology for drying and firing of bricks in high capacity tunnel kilns and dryers. The total investment costs more than US$15 million.
The rich clay deposit enables the facotry to produce a wide varieties of products with texture ranging from smooth face, bark face, rock face, sandblast, tumble, cobble and rock face; while the color ranges from white, cream, granite, red, purple, brown and many other combinations of shades and tones. Brick accessories and bricks of special shapes are also produced to fulfill the pursuance of perfection by some architects or designers.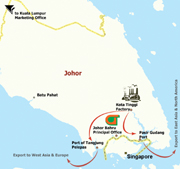 Apparent Advantage on Geographical Location
Our factory, located in Kota Tinggi (Johor State), has excellent access to all means of transportation network. From our factory, expressway toll is about 40 km away; Pasir Gudang Port is about 40 km away; Port of Tanjung Pelepas is about 65 km away; Port of Singapore is about 80 km away; whereas Senei Airport and Railway station are about 35 km in distance.
Brief Introduction for Pasir Gudang Port and Port of Tanjung Pelepas in Johor
Most of our export goes through Pasir Gudang Port in Johor to our customers in overseas. The Pasir Gudang Port, located at the southern part of Johor, is a modern port equipped with all facilities to meet the requirements of international standard of cargo and ship handling operations. The area of operation of the port has been gazette as a Free Trade Zone. Thus, the port functions as a center for increasing the flow of entrepot trade (import, export and transshipment) and encouraging the manufacturing industry in its free trade zone.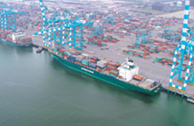 The Port of Tanjung Pelepas (PTP) is a new port for container ships located at the eastern mouth of the Pulai River in south-western Johor, Malaysia. Receiving its maiden vessel on Oct. 10th 1999 on a three-month trial operation, it set a world record as the fastest growing port with 1 million TEUs of containers handled after 571 days of operations. The port continues to register spectacular growth primarily resulted from Maersk Sealand, the world's largest container ship operator, overtook 30% equity stake in the port's holding company in year 2000 and Evergreen Marine Corporation shifted its operations to PTP from Singapore in 2002. In year 2003, it has outstripped Port Klang and thereby establishing itself as Malaysia's largest port.
Alternatively, our customers in overseas can choose to ship the products through the Port of Singapore.
Quality Control
At Claybricks, quality assurance is our key priority. All raw materials are carefully analyzed and tested using advance computer-aid equipment before production. All products are produced under the most stringeend quality control.
Flow Chart for Quality Control in Brick Manufacturing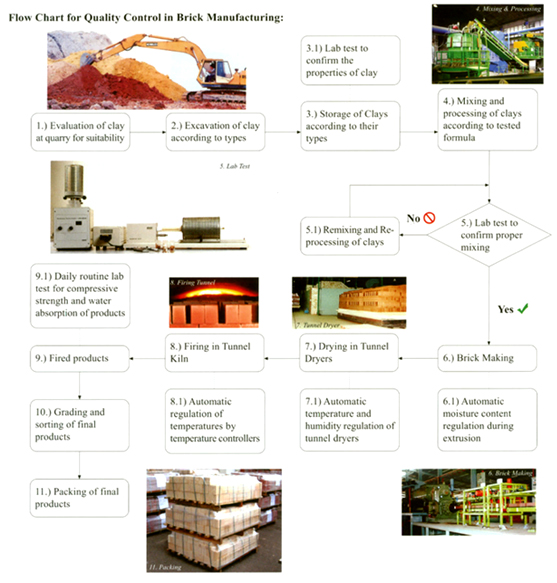 Customer Services
At Claybricks, consistent high product quality is the result of our long-term efforts to keep abreast with changing market demands. We understand that brand value builds upon positive customer experience, because only positive experience can bring customers back, spread the brand name to others, and build up brand royalty. Therefore, our staffs are professionally trained to offer best services to our customers and maintain a close relationship to promptly response to satisfy their needs at all times.
In addition, Claybricks also provides free, one-stop, professional consultation services in conceptualization and design for interior, exterior, fencing, landscaping, new/recondition building, and product applications and installation.